Fashion Loves Nostalgia!
If the last year is anything to go by, fashion is having a serious romantic moment with all things old school. First we had the 90s revival of grungy plaid, Clueless-inspired crop tops and fluffy accessories and now all things cartoon, cute and cool will soon be winging their way into the wardrobes of Northern Ireland's style conscious women.
You could say that this turn in the fashion tide is a reaction against the doom and gloom of the world and the desire to hark back to the more joyful times of our childhood. This lives out in the plethora of childhood and cartoon-inspired pieces hitting the rails and the web. It started back in 2015 when Moschino, in true bold Italian form sent hot pink and Barbie bouffants down the runway with dolly accessories in tow. The fashion world fell in love.
Up next MAC brought Trolls back with a bang with a bright and beautiful makeup collection that really started to ramp up this fun old school vibe and now Lime Crime look set to launch a beauty collection with a series of palettes shaped like your old friend Polly Pocket's plastic home. The beauty fan's newest obsession. Check out the amazing palettes here.
This season, Moschino launched their latest collection via catwalk live stream and it's a full-on My Little Pony extravaganza with lots of boldly printed t-shirts and cool biker boots.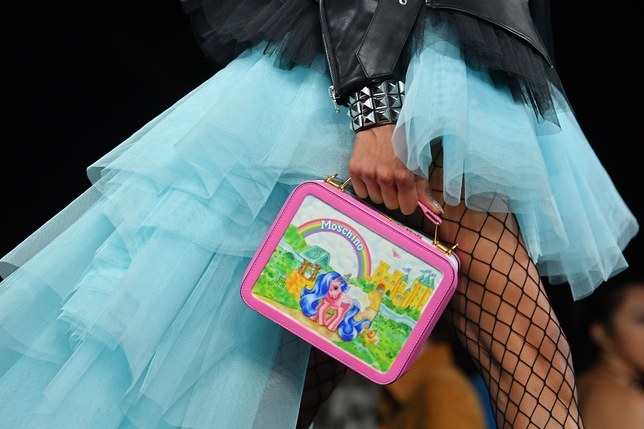 Get this look and make a splash with this fun and frivolous fashion trend by adding some colourful metallic accessories, cute back packs and soft colours reminiscent of a Care Bears rainbow to your next outfit. Don't worry if this look is too much for you, it's definitely an acquired taste but it's one that can be hinted at with some playful jewellery or metallic shoes teamed with your classic jeans and simple top. Take some baby steps and branch out of your comfort zone with brightly hued accessories, 90s inspired cartoon characters on t-shirts, pyjamas and even bags.
We're loving the cute tees, stylish cartoon nightwear and must-have accessories hitting the shops right now. It's time to add some fun back into your wardrobe! See our favourite pieces at bargain prices below. After all, most of us don't have a Moschino stretching budget.